SCT STEFANSKIRKEN (4)
ST STEPHAN'S CHURCH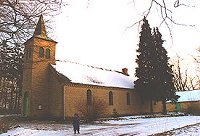 In a few years it will be possible to go to church in Andelslandsbyen.

Some years ago Andelslandsbyen bought a church. A small church which used to stand near Igelsø, south of Holbæk. The church was built in 1884 by an independent Lutheran congregation. The members built the church themselves for the price of 5000 dkr, using yellow bricks for the walls and slate for the roof. The spire was coated in copper. But they never bought a church bell. That would have been expensive, and most of them lived too far away to hear it.

In 1996 the congregation had existed for more than a hundred years, but it was growing small. All that was left was a few very elderly people spread out over most of Sjælland. They decided to sell their church to Andelslandsbyen Nyvang.
The church is complete with altarpiece, font, pulpit, organ, pews and several smaller effects, which will make it a building of great value to Andelslandsbyen.

In one end of the nave there is a small flat, originally occupied by the minister, but later let out to members of the congregation. Along with the church comes a small building with room for eight horses in the basement and a sunday-school on the first floor.

The church will be torn down and rebuilt in Andelslandsbyen. This work is just beginning. When the building is complete it will be consecrated and occasionally used for its true purpose.
The work of moving the church will begin in 2003.